A seasonal scam involving a "FREE Easter Chocolate Basket" from Cadbury is sweeping the nation across social media and messaging platforms.
The Dairy Milk manufacturer has warned customers of the scam using their own social media platforms, and a Cadbury spokesperson has reportedly said:
"We've been made aware of circulating posts on social media, claiming to offer customers a free Easter Chocolate basket,
We can confirm that this has not been generated by us and would urge customers not to interact or share personal information through the post."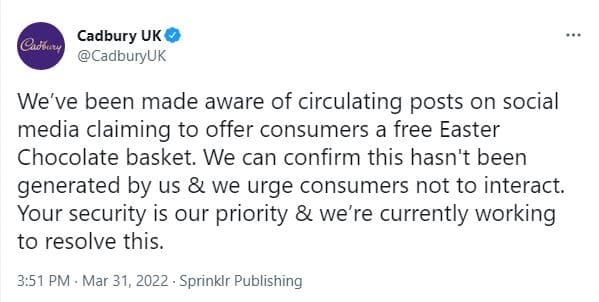 The fake promotion offers the chance to win one of 5,000 free Easter chocolate baskets, with similar branding and appearance to the actual Easter competition run by Cadbury – though the genuine competition is not offering the chance to win chocolate.

The link attached to the scam uses the "TinyURL" shortening format and is followed by the .ru suffix, suggesting the scam may be Russian in origin.
Spotting impersonation scams and how you could get your money back if it happens to you – (The Daily Star, featuring CEL Solicitors)
It is highly recommended to ignore the scam message and avoid following the link and entering any personal details.
Similar scams to this in the past have allowed fraudsters to gather and then use personal information to further con victims through impersonation fraud, send unsolicited spam messages, and in some cases, gain access to secure systems and financial accounts.
Cadbury has indicated that they are looking into the fraudulent message, stating:
"Customer security is our priority and we're working with the relevant organisations to ensure this is resolved".
If you find that you have lost money to a scam, tell CEL. Our dedicated fraud and scam team are on hand to offer free initial advice. If we believe that we have a good chance of regaining your money, we offer cases on a no-win, no-fee basis. Call on
0808 273 0900

or apply online and a member of our team will be in touch.