Lucy, from our First Response team along with her dad, Ian is helping to raise money and awareness for Prostate Cancer UK. After being personally affected by this, they wanted to give something back. Read more on how Ian is taking on the March the Month challenge. 
What was the motivation behind starting your March the Month?
After being diagnosed with prostate cancer in September 2019, my motivation behind this challenge is to bring awareness to others and help raise funds for vital research needed for prostate cancer diagnosis. The word cancer totally frightened me and being told by doctors that you have cancer does have an effect on you and your family. I am eternally grateful to be here to tell my story.
Which charity have you chosen to run for and why? 
I have chosen to take on the March the Month challenge for Prostate Cancer UK, a charity set up to help those affected by prostate cancer and an avenue for the family to seek advice, support and aid their journey in supporting a cancer sufferer. For me, they helped support myself and my family through hard times.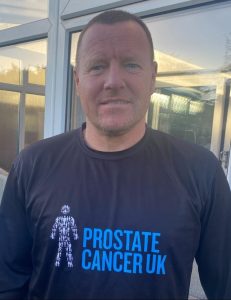 What will your challenge entail? 
I'm setting myself this challenge to achieve 11,000 steps per day for the 31 days of March by doing a mixture of running and walking.  The reason behind the 11,000 steps is to represent the 11,000 dads, partners, grandads, sons, brothers, uncles and mates who die from prostate cancer every year. On the first day of March, I succeeded by running over 15 miles and completing over 30,000 steps!
My aim for this challenge was to raise £200 but this suddenly increased following the generous donations from close friends, family and my daughter Lucy's workplace, CEL Solicitors. The total amount that I would like to raise is £2500. 
I'm hoping the money raised will go towards future research to help people, like myself, detect cancer early and save the lives of loved one's.
You can learn more here. 
What's your plan for when the challenge finishes? 
Now that I am 16 months on from my initial diagnosis, I want to be able to help others as much as I can. Therefore, when March is over I am looking to continue to carry on in the group forums for prostate cancer and hopefully answer any queries or concerns that men have once they are first diagnosed and treated. Hopefully, my past experiences can help to put their mind at rest, as for running every day, we will have to wait and see! 
For daily updates and donations for Ian's March the Month challenge, click here.