Every single year, half a million children across the UK living in poverty, wake up Christmas morning without a single present. For the second year running, CEL Solicitors is assisting financial services company Sedulo in their Liverpool Christmas Toy Appeal to put a stop to this.
The appeal aims to help charities and carers working with children who come from severely disadvantaged backgrounds, bringing some much-needed joy during the holiday season. The Christmas Toy Appeal currently runs in Manchester, London, Leeds, and Liverpool.
About the Christmas Toy Appeal
Last year, 404 children received over 5,000 gifts, each specifically chosen based on their interests and wrapped with love and care. The gifts were then distributed around the UK in bespoke Santa sacks, ready for the big day.
This year, the Christmas Toy Appeal is back and bigger than ever with over 600 children involved! Of those, 200 are based in Liverpool, with team CEL sponsoring almost half, clearing their list of 78 entirely!
In early December, Tola and Toni – two wonderful women from the Amadudu women's refuge charity – visited the CEL offices to talk about the importance of initiatives like the Christmas Toy Appeal. Amadudu works with women and children who have fled domestic violence, often with few/no belongings. This appeal helps give children like those assisted by Amadudu, a memorable Christmas.
Read more about our talk with Tola and Toni about the Amadudu charity
How does the Christmas Toy Appeal work?
Helping a child via the Sedulo Christmas Toy Appeal really couldn't be much simpler…
Select a child to sponsor from the online list. You're not limited to just one child though – you can sponsor as many children as you like!
Pick the perfect gifts. It's recommended that you spend between £25 and £30 per child, but that's just a guide. Each child will have a brief outline of the sort of things they dream of receiving. This could be anything from dolls and cars to socks and toiletries.
Deliver the gifts to Sedulo. Depending on where your chosen child lives, you will deliver the gifts to the closest drop off point. This will be the same city where your chosen child lives and will be highlighted in your confirmation email.
Join Sedulo and their partner charities at their reverse Santa's grotto. Taking place in Manchester, Leeds, London, and Liverpool, these events are an opportunity for special guests to get together in celebration.
After all the presents have been dropped off, things are handed over to Santa and his elves. It's their turn to deliver the presents to the wonderful children across the country, ready for the big day.
The appeal might be closed for 2021 but check back next holiday season to see how you can help even more children!
Team CEL and the reverse-grotto
While the 2021 Christmas Toy Appeal has drawn to a triumphant close for the year, team CEL thoroughly enjoyed their time at the reverse-grotto event.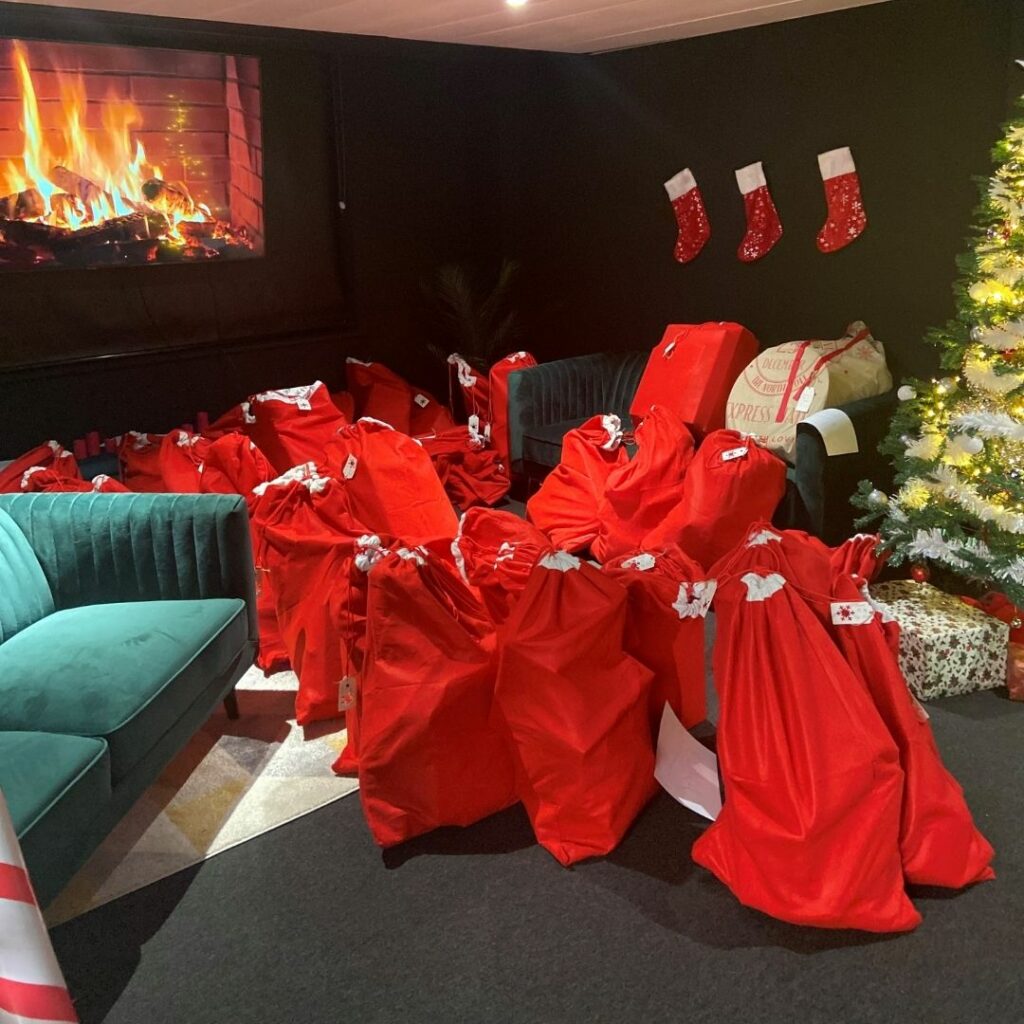 The event saw sponsors, charities, and special guests including their children and families, attend an afternoon of festivities. This included pies (both mince and otherwise), mulled wine and live music. There might have also been an extra special visit from the big man in red, himself!
What comes next?
The Christmas You Appeal might be over, but that doesn't mean the work is finished. Half a million children around the country are still in need of support.
Charities like Amadudu Women's Refuge rely on donations and support from initiatives like this to function effectively and thrive.
If you would like to help, look for local, national and international charities in need of support.