There is little doubt that the law industry is a difficult and competitive area to break into, and we believe it is important to celebrate and reward the hardest working and highest achieving students entering the profession.
Sam Smith – an Edge Hill University student taking part in the Advanced Lawyers Skills module – is the first person to be awarded the new Celebrating Excellence in Law award by CEL Solicitors.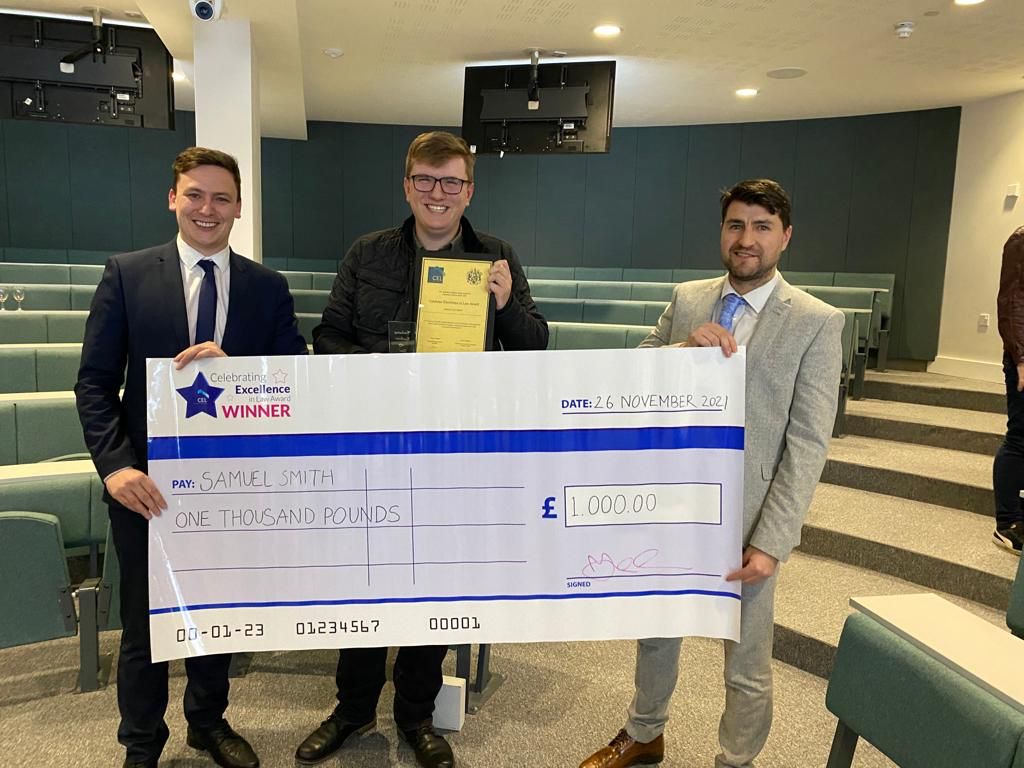 What is the Celebrating Excellence in Law award?
Exclusively for those studying Law and Criminology at Edge Hill University, the award aims to celebrate the achievements of the highest achieving student taking part in the Advanced Lawyers Skills module.
As a practice-based module, the students are tasked with taking on a civil litigation case from start to finish. This involves a considerable amount of client interviews, form filling, presentations, and court representations. The module encourages students to enjoy a hands-on sample of the legal profession – ensuring a highly practical element to the course.
The newly conceived award was designed by CEL Solicitors founder Jessica Hampson, and Dr Simon Hale-Ross PhD LLB (Hons) FHEA FRSA – a Senior Lecturer in Law at the Department of Law and Criminology at Edge Hill University.
Jessica Hampson, a director and owner of CEL Solicitors, said: "This award is an important legacy of 2021, during which, our theme for the year was to embody our name and 'Celebrate Excellence in Law'. As a growing business, investing in the pipeline of talent is crucial to our future success. We're therefore incredibly proud to have forged such a strong relationship with Edge Hill University – culminating in this prestigious award. The annual award, for the law and criminology student, with the highest mark in the Advanced Lawyers Skills module, aims to celebrate the success of hardworking and dedicated students. Our inaugural winner, Sam, has done tremendously well so we're delighted to support him with a £1,000 contribution towards his studies and a work experience placement with us."
Dr Hale-Ross very kindly adds: "This Award illustrates the uppermost part of the continued and unwavering support offered by CEL Solicitors to the law students in our Department of Law & Criminology. It serves to celebrate those who have achieved the highest possible standard and represents the best award offered to our students. On behalf of the Department, I'd like to thank Jessica and the Partners, and all those wonderful people at CEL who offer their time, effort and expertise in guiding our students through the legal practice world. CEL certainly represents the modern law firm and I sincerely look forward to our continued relationship."
What are the rewards?
As the top-performing student on the module, Sam Smith earned a prestigious trophy for his work, alongside a £1,000 prize reward. He also earned a work experience placement with CEL Solicitors, where he will work and learn invaluable skills first-hand alongside experienced industry professionals.
While Jessica Hampson was unable to attend the event, CEL directors Tom Blanchfield and John Lowry were on hand in her absence to grant the award to Smith during a ceremony accompanied by his family.