CEL Solicitors' marketing executive, Rebecca, has been a part of a steering group to decolonise some key art pieces in the Walker Art Gallery.
Today is International Museum Day. Museums are an important means of cultural exchange; they promote learning and encourage mutual understanding. Over the past 6 months I have had the pleasure of being part of a steering group with National Museums Liverpool. The group worked to recontextualise some key art pieces that have direct links to slavery on display at The Walker Art Gallery.
The Liverpool Sandbach Family
I have always been interested in art, history, and social activism, so when I saw the call-out for this project, I knew that it was something that I wanted to be part of.
The project focused on marble pieces owned by the Liverpool Sandbach family, who were part of the Sandbach, Tinne & Co. dynasty. They were shipowners, merchants, and plantation owners, exporting sugar, coffee, cotton, timber, molasses, and rum from the Caribbean to the British ports of Liverpool and Glasgow.
Without context, the Sandbach sculptures appear as graceful and pristine as any other piece you'd come across in the gallery. However, this art was commissioned with funds that the family accrued through their involvement with the slave trade. They became extremely wealthy through the enslavement, trafficking and forced labour of many tens of thousands of people, and used this wealth to collect art.
Having huge significance as slave owners, even after slavery was abolished in 1833, the Sandbachs were awarded large claims in compensation, receiving the second-largest payments made to any merchants.
Until April of this year, none of this vital context was available at the Walker Art Gallery. Thus, the steering group was developed.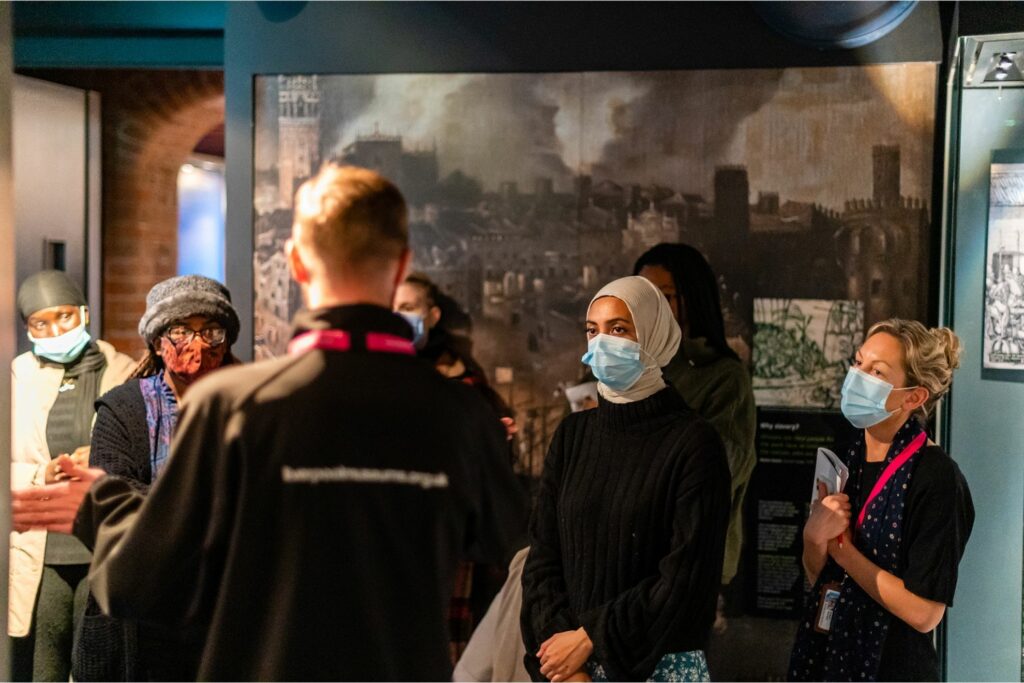 The Research Process  
Through workshops, archival research, and independent research, the steering group worked to provide more context on the Sandbach family, their political and economic influence within Liverpool, and their complicity in slavery.
What also drove our research forward was a talk from Malik Al-Nasir, poet and author from Liverpool. He spoke to us about his fascinating, yet emotional journey tracing his roots back to slavery. In 2002, Malik was watching a documentary when Victorian footballer, Andrew Watson appeared on screen. Watson was one of the first black footballers in the world, and Malik was stunned to see how much he resembled him. Further to this, Watson had the same surname as Malik's father, and was also from Demerara in Guyana, just like his father. This prompted Malik to trace his family lineage, to which he discovered that Watson was in fact a distant relative, and that Malik's ancestors were part of the Sandbach family.
"At first this felt great – I was connected to an icon of black history. But through him, I was also linked to a dark chapter of Britain's colonial past and the slave trade. The discovery was bitter-sweet." – Malik Al-Nasir, (2020), BBC News
Malik has been researching his family roots for over 15 years and is currently studying a PhD at the University of Cambridge. Without this, the project would not have been possible.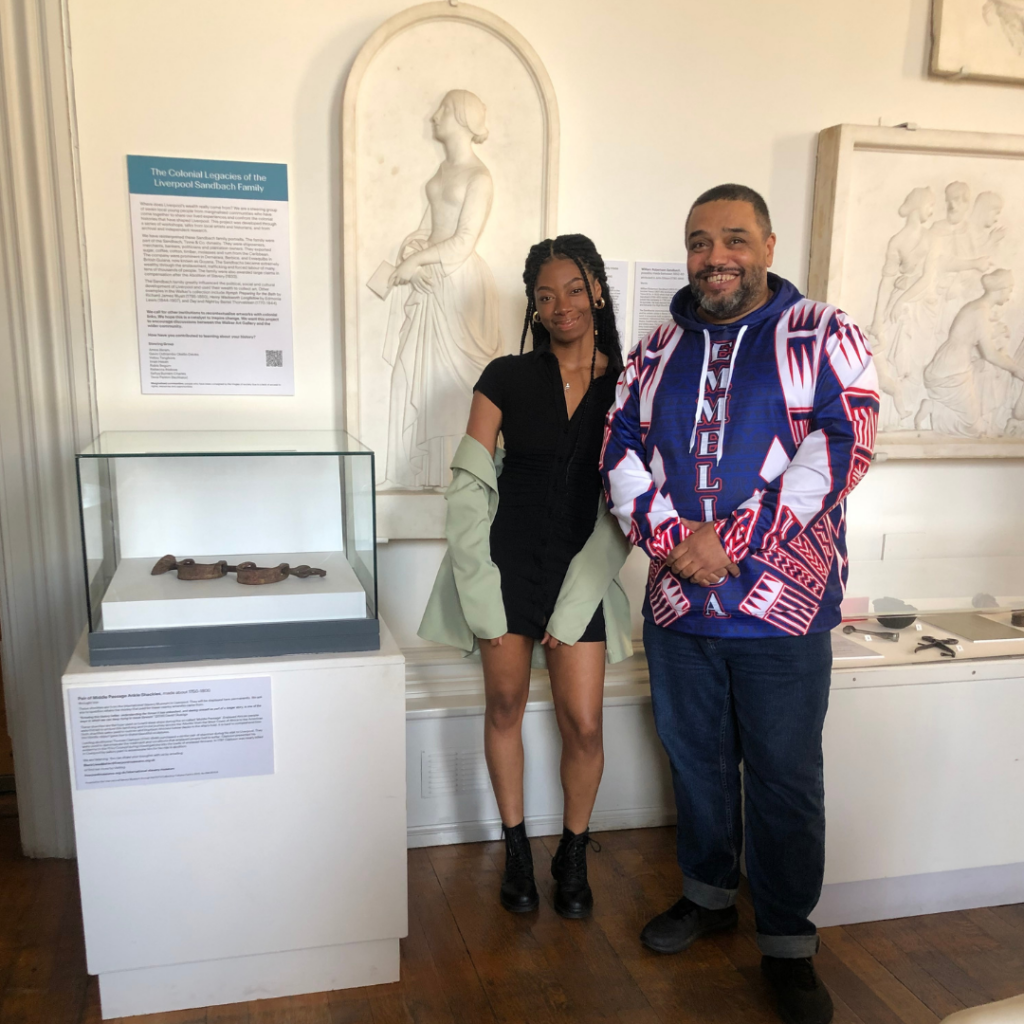 The New Sandbach Family Display
The new Sandbach Colonial Legacies display opened at the Walker Art Gallery in April and is now permanently available for public viewing.
Not only have we created new plaque cards providing more context on the family's colonial links, but we have also relocated wrought iron shackles from the International Slavery Museum to the Walker Art Gallery as a permanent part of the display. Such shackles were used to restrain and imprison Africans as they were forced to endure a brutal journey across the Atlantic to the Americas, often referred to as 'The Middle Passage'. The decision to display the shackles next to the sculptures was made to create visual juxtaposition and to also show that slavery does not exist only in history, but that its legacies are still present in our streets, in our buildings, and in our culture today. The Sandbachs display of wealth came at the expense of those who they exploited, and it was imperative to us that this was addressed.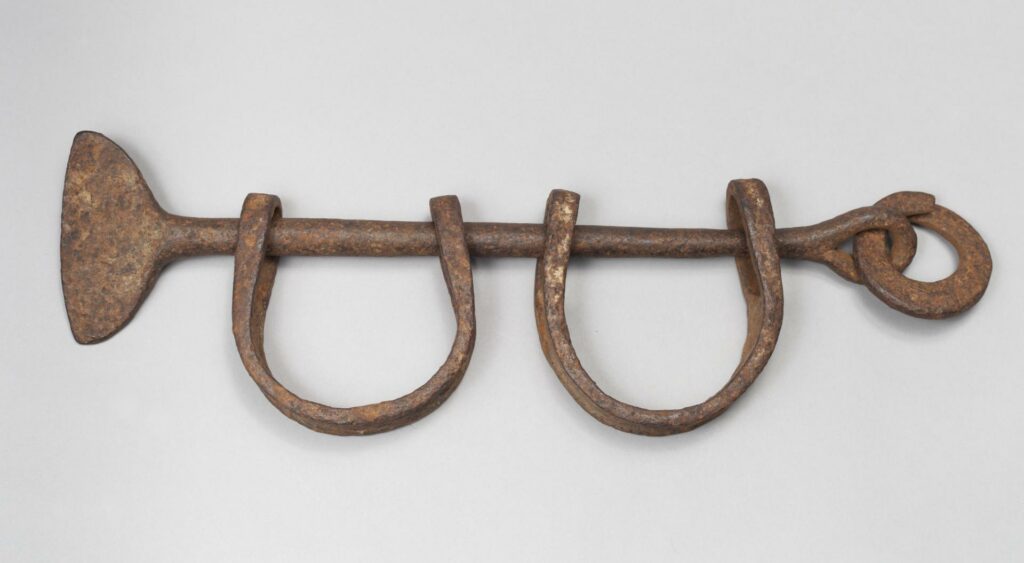 The Significance of Decolonisation
Museums Association defines decolonisation as the 'long-term process that seeks to recognise the integral role of the British Empire in museums' by addressing their colonial history.
This process is not exclusive to museums only, decolonisation can also be applied to statues, monuments, and anything else in public view. Back in 2020 during the rise of the Black Lives Matter movement, protestors tore down the statue of slave trader, Edward Colston into Bristol Harbour. As expected, this triggered a lot of public outrage, but ultimately, it was a huge catalyst for change.
There is now a lot of discourse surrounding slavery, colonialism, and decolonising institutions and public spaces. People are now more inclined to question where our countries wealth comes from, and rightly so. Our museums are bound up with the history of colonialism, therefore it is essential to decolonise these public spaces and promote more inclusive narratives. For society to truly progress we must continue to address the areas of history that have, for so long, been minimised and disregarded.
Our main objective for the exhibition is that other institutions will begin to question their legacy and recontextualise their works with colonial links. We also hope that this sparks insightful conversation and allows people to explore the colonial legacies of Liverpool and the United Kingdom as a whole.
The Colonial Legacies of the Liverpool Sandbach Family exhibition is available at the Walker Art Gallery. Find out more about the display and listen to our podcast, where we discuss the project in further detail.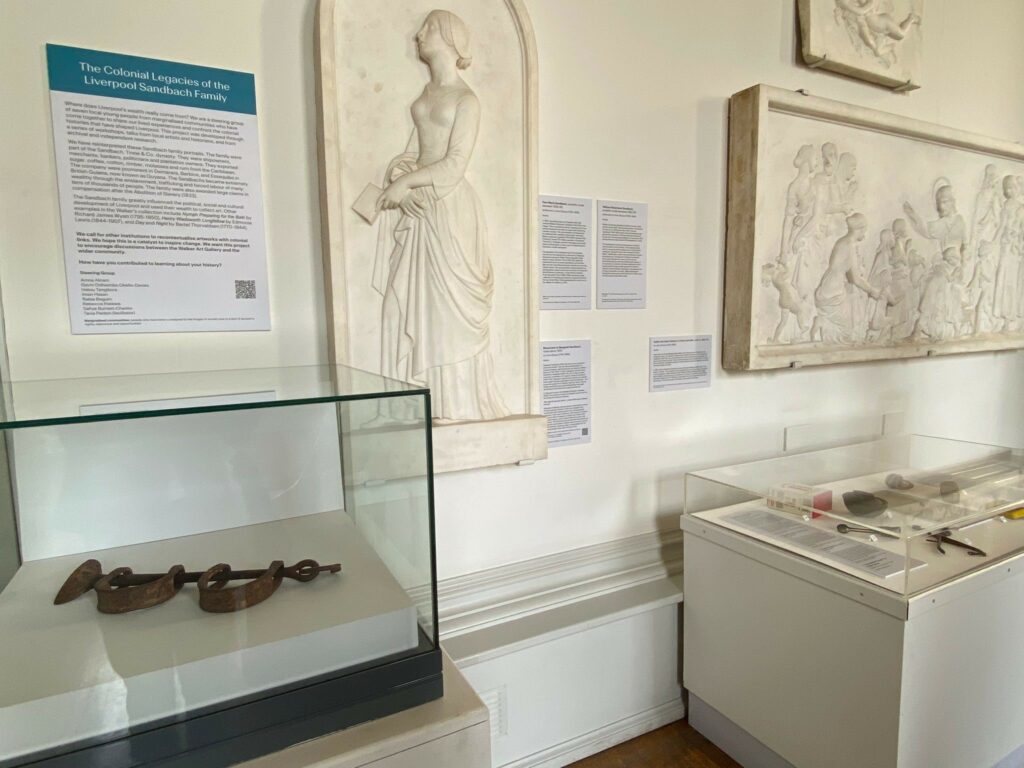 Steering Group Members:
Amna Akram
Gavin Odhiambo Okello-Davies
Hatou Tangikora
Iman Hasan
Rabia Begum
Rebecca Ihiekwe
Safiya Burnett-Charles
Tavia Panton (Facilitator)