In a bid to 'flatten the curve' of the coronavirus outbreak, the UK, as of 23 March, was placed on lockdown. While the transition to self-isolation hasn't been easy for the UK population, what does it mean for the nearly three million people – including children – who are living in homes with damp, mould and other disrepair issues?
RISK TO HEALTH
While going outside is a risk to health of the masses, for these millions living in unsafe homes, staying inside could also be a risk. With mould and damp having proven impact on respiratory function, particularly for children, and many families living with infestation, faulty electrics, poor guttering and more, what is the real impact on them?
Despite the current pandemic, recent Government legislation has set out a clear message that private and social landlords' repairing obligations have not changed and tenants are still entitled to live in a warm, safe and sound environment. Unfortunately this is not always the case. Three of our housing disrepair clients shared their stories of self-isolation with us.
"COVID FORCED ME OUT OF MY HOME"
Patrizio, from Leeds, was forced to temporarily move out of his one-bedroom flat due to fears that staying there during the lockdown could increase his risk of becoming seriously ill. Living with mould, damp and suspected asbestos, which he reported to his landlord back in January 2019, Patrizio is still waiting for repairs over 12 months later.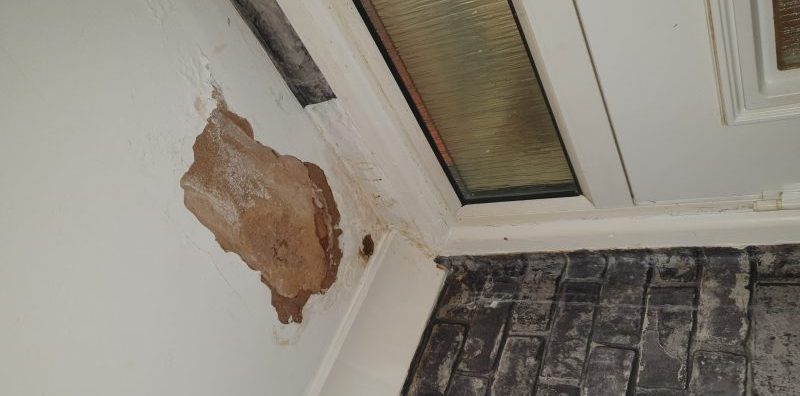 Suffering with severe asthma, as well as a number of other health conditions, he was visited by a representative but no further action, despite him expressing concerns about his respiratory health being affected.
Now, after being told by doctors to self-isolate for 12 weeks due to his poor health, he has decided to relocate and live with his mother.
On the disrepair, Patrizio said: "At first, I noticed brown marks on the kitchen ceiling, which got bigger and bigger until virtually the whole ceiling looked like I'd thrown Coca-Cola on it!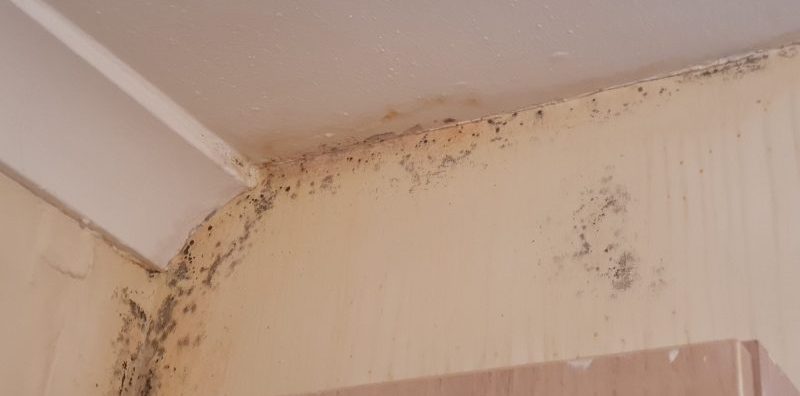 "It then started coming through in the hallway, with pieces of the ceiling actually coming away. I was even hospitalised with breathing issues at one point after part of the ceiling came down on me. I suffer with severe asthma, so am classed as being at higher risk of becoming seriously ill with Covid-19. I was told to self-isolate for 12 weeks, but I didn't feel safe doing so at home – the mould and damp were already making my asthma worse before this crisis so I was deeply concerned that, should I catch the virus, my home could potentially kill me."
LIVING IN LOCKDOWN WITH YOUNG CHILDREN AND MOULD
Mum of four Kimberly says her home is so overwhelmed with mould and damp, that the smell and cold means her and her children are now in lockdown in a home which is 'unsuitable to live in'.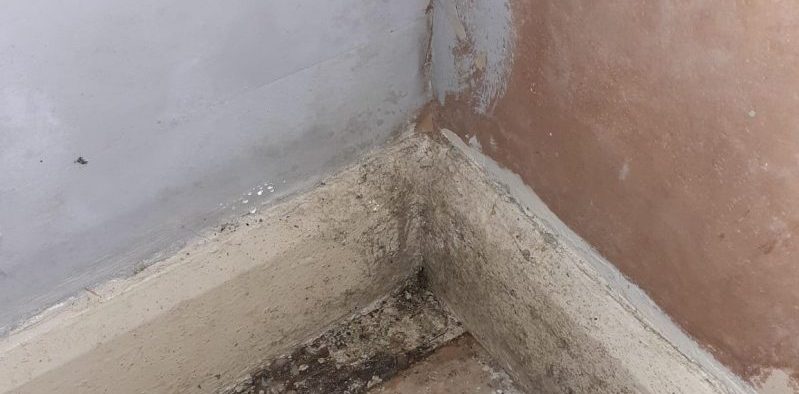 Despite multiple complaints to her housing association over the past two years and workmen being sent out to rectify the issue, problems have only gotten worse. Kimberly said: "The problems just continue to escalate. The housing association has previously admitted neglect and sent somebody out to sort the issues, but every time they have just created more issues. They came out to fix the shower, for example, and as a result I ended up with a yellow wall and leaks in the bathroom.
"I have doors hanging off the hinges because they weren't fitted correctly, rotten wood due to the damp and no door at all now in the bathroom. The damp is so bad the walls are rotting and literally flaking off. A radiator, which was installed in the kitchen, has even left me with holes in the floorboards. I am so scared that mice or even rats might come in I have to stuff them with clothes to provide some protection.
Kimberly and two of her children suffer from epilepsy and she is worried about the impact the state of the property is having on their health. She said: "The mould means the house absolutely stinks and is always cold, so we have to have the heating on constantly to provide some warmth. Normally, my children would be at school and I would always go out to escape from the house, but being stuck here 24/7 staring at these walls is heart-breaking. I already suffer from depression and my current situation is making things even worse. My children are all suffering from colds and chest infections and I am very worried about the impact being trapped in this house is having on their health given the current situation."
"I need our landlords to remember, especially in the current lockdown, that we are in desperate need of help as we are now trapped in a property which is unsuitable to live in and feel they have forgotten about us."
LOCKED IN WITH DISREPAIR
Working mother of three, Deanne, from Slough, has been waiting for over two years for repairs to her home despite shocking amounts of mould, damp and even massive holes in her kitchen and children's bedroom ceilings, which is now causing severe leaks.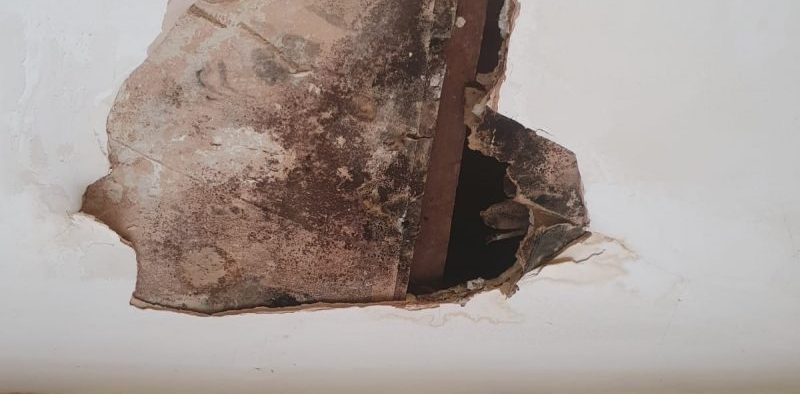 Despite notifying her landlord numerous time, Deanne, says they have not rectified the issue and the problem is continuing to escalate. She is now in lockdown with her three children in a home she fears is damaging their health.
Deanne's children are 6, 16 and 18 years old. Her 18 year old son is disabled and two of her children also suffer from asthma. She said: "Being trapped in our home in this state is like living in a nightmare. It's getting me really depressed and I don't know how much more I can take. Before the lockdown, my children would often stay at my sisters or with friends because their room is so bad, but now we have no option but to stay in the house and I fear it's damaging their health.
"My two children with asthma are waking up every day needing to use their pumps and their eyes are streaming. I think it is definitely due to the state of the mould and damp in their bedroom. Parts of their bedroom ceiling are even hanging down and I am terrified that any day now it will collapse and could seriously injury them.
"Even the kitchen is unworkable. There is a massive hole in the ceiling so every time anyone has a shower, you could basically shower in the kitchen. The flooring is coming up all over the house and the mould is everywhere. I keep scrubbing it with bleach but it just comes back."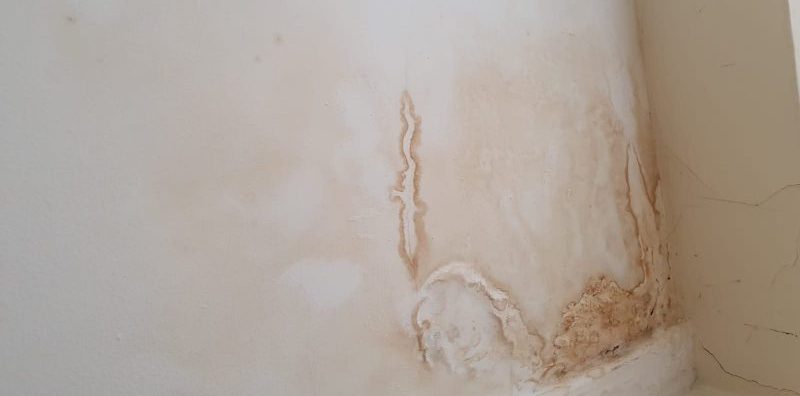 "Our landlords have admitted liability and were supposed to have works completed by 4th March, but despite sending a roofer round to look at the issues, they have still not fixed the problem. Now, because of Covid-19, we are now locked in a house with appalling living conditions. We need  them to recognise the seriousness of the situation we are now are and do something to help us."
WHAT CAN WE DO IN THIS TIME OF CRISIS?
While many landlords do comply with housing regulation – including the most recent bill, The Homes Act, which came into full force last month – many do not, leaving renters in limbo and in properties unfit to live in.
Mark Montaldo, solicitor and director here at CEL said: "Many of the families we are currently helping have lived with these issues for years before seeking legal advice, despite repeatedly asking for help from their landlords. They are now trapped in what could have been an avoidable situation where they are having to isolate in awful conditions. Spending more time at home will also mean people notice issues they may have otherwise been unaware of and also realise some problems are much bigger than they first thought, especially when in fundamental areas such as kitchens and bathrooms.
"Here at CEL, one of our main values is 'people before profits' and that means we put the needs of our clients above everything else. Although it's more difficult to get repairs done with rules around social distancing, we're continuing the fight to improve living conditions.
"Recent government guidance urges landlords and tenants to be flexible around non-essential issues, but there is a clear message that private and social landlords' repairing obligations have not changed and tenants have a right to a decent, warm and safe place to live. Contracts can still attend properties as long as social distancing is maintained meaning urgent health and safety issues should be attended to. While non-urgent repairs may fall by the wayside during the lockdown, these should still be addresses within 56 days of the Covid-19 movement restrictions being lifted."
Are you living in disrepair? Get free advice from our friendly team of legal experts today by calling us on 0808 273 0900 or filling in the call back request form.