In the lead up to and following Christmas, more than a million scam text messages will be sent in the UK by fraudsters.
A recent uptick in these fraudulent impersonation scams comes in the form of delivery company impersonators. UK Finance has issued a warning that the rate of scam text messages during the holiday season has increased dramatically. While not always the case, these scam delivery messages may claim that they are owed a delivery fee before the item you have ordered can be delivered. While a small delivery fee (typically under £5) might not sound like a lot of money to lose out on, this is just the start.
What are Smishing scams?
Smishing is a term coined for when fraudsters send messages to victims via SMS and similar platforms like WhatsApp. They do so by impersonating trusted companies, retailers, brands, etc. to gain access to your money.
Similar scam delivery messages may also state that they attempted delivery but that you now need to reschedule. In order to "reschedule", they will then ask for personal and sensitive details.
Once these fraudsters have your bank account details, they're then potentially free to keep charging your account. Depending on the security and response from your bank account, they could drain your money within days if not hours!
Alternatively, smishing attempts may contain malware. This can allow criminals easy access to your device and its contents whenever they like, giving them the ability to read your messages, activity, and passwords.
Smishing scams can come in all different shapes and sizes, so always be vigilant whenever you receive a text message or an email from a company. You should do this even if you believe you know what the message is regarding.
During the holiday season, these scammers are preying on people expecting parcels. Their hope is that the victim will mistake a genuine order for that of the fake message.
---
---
How to avoid scam delivery messages
Unfortunately, these fraudsters are smart. They know how to make their fake message look real. They also know that by adding time-sensitive wording to their message, they're able to make people panic. This can lead to people responding before giving the message a greater deal of thought.
If you receive a message from a company, always check who sent the message. While some can mask their details to make them more convincing, there are often tell-tale signs. This can include a generic mobile number being used for an official company like Royal Mail.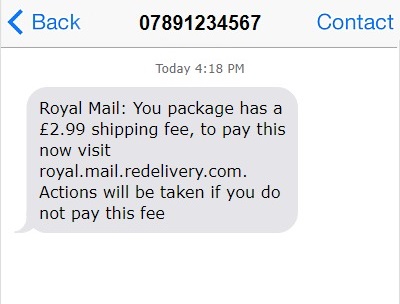 Another great way of checking whether a message is authentic is to check the web address contained within the message. If the web address you're directed to doesn't look quite right, then you should visit the official version for comparison.
With more and more people shopping online, the rate of impersonation scams has doubled across the UK in the last year. Due to this, scam delivery messages aren't likely to stop once the Christmas season has ended. Boxing Day and January sales will likely provide these scammers with more opportunities.
Once these scammers have their victim's information, they can then use this data to continue targeting their victims. By impersonating bank providers and police officers, they can offer to help return your money to you before taking further advantage.
I've been scammed
If you find that you have fallen victim to one of these impersonation scams, the first thing you should know is that it is nothing to feel embarrassed about. Impersonation scams are one of the most common types of scams we come across at CEL Solicitors. They can catch anybody by surprise.
We have a dedicated fraud and scam team who are experts in helping victims recover their lost money. You can find more information on our Impersonation Scams page or you can contact our team to take the first step towards claiming your money back. Tell CEL today on
0808 273 0900

, or start your claim online.